Applying for a loan is a significant financial decision that can significantly impact your financial situation. Whether you're considering a personal loan, car loan, or mortgage, it's essential to carefully assess whether a loan is a suitable choice for your current financial situation. When applying for a loan, you need to make sure what you do is right for you. Many factors can affect your decision to take out a loan. Knowing these factors will help you make an informed decision about whether a loan is right for you.
Factors to consider while applying for a loan
Before applying for a secured loan, you should consider the following factors:
1. Purpose of the loan
The first factor to consider is the purpose of the loan. What are you going to do with the funds? Why do you want to get a loan: is it to consolidate debt, pay for renovations, or buy a car? Is it an emergency, or can you wait and save for a rainy day?
It is essential to carefully assess the reasons for the loan and determine if it meets your financial goals.
2. Interest Rates and Fees
The interest rates and fees attached to the loan are also important factors to consider. Interest rates represent the cost of borrowing money and vary based on factors such as your credit score, loan amount, and loan term. A lower interest rate means you pay less over the life of the loan, which can make the loan more affordable.
These fees can add up quickly, making the loan more expensive overall.
3. Repayment terms
Another essential factor to consider is the loan repayment terms. This includes the time of the loan and the repayment schedule.
A longer loan term can mean lower monthly payments, but it also means you'll pay more interest over the life of the loan. A shorter loan term means higher monthly payments, but you pay less interest overall.
It is also essential to consider repayment plans. Will you pay monthly, or will you have to pay more frequently? Based on your current income and expenses, can you afford it?
4. Credit Score
Your credit score will play an essential role in your eligibility for a loan and the interest rate you will get. A higher credit score generally means you qualify for a lower interest rate, while a lower credit score may mean you will pay a higher interest rate.
If your credit rating is poor, you may need to work on improving it before applying for a loan. This can include paying off debt, paying on time, and disputing errors in your credit report.
5. Alternatives to Loans
Before applying for a loan, it is essential to determine if any other options are available to you. For example, you can use your savings instead of taking out a loan to pay for expenses. Or you can use a credit card with a lower interest rate instead of applying for a personal loan.
6. Your current financial situation
You must consider your current financial situation to determine if a loan is right for you. This includes your income, expenses, and other debts. Can you reasonably take on more debt? Does it fit with your overall financial goals? If you're already struggling to make ends meet, a loan may not be your best option.
7. EMI
An EMI, or equivalent monthly payment, is a fixed amount you must pay each month to repay a personal loan or the interest on a personal loan. It consists of part of the principal and the interest received by the borrower. When choosing a loan, EMI plays a vital role in determining the affordability of the loan and your ability to repay it.
Steps to assess if a loan is right for you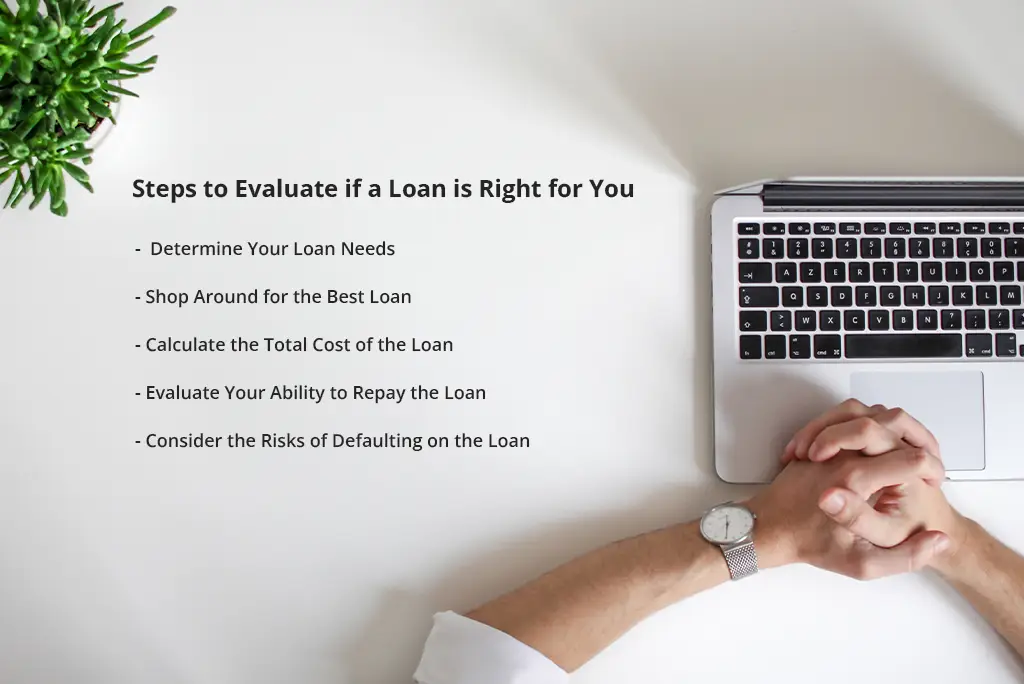 After considering the above factors, you can take the following steps to assess if a loan is right for you:
1. Determine your loan needs
The first step is determining your loan needs. How much should I borrow, and what is the loan used for? This will help you choose the type of personal loan best suits your needs. This includes comparing different lenders' rates, fees, and repayment terms and trying to find personal loans online.
You can start by researching personal loans online or contacting a local bank or credit union.
2. Calculate the total cost of the loan
It is essential to calculate the total cost before applying for a loan. This includes principal, interest, and all fees associated with the loan. You can use an online calculator or spreadsheet to help you determine the total cost of your loan or, in other words, your loan interest.
3. Assess your ability to repay the loan
Once you have calculated the total cost, you need to assess your ability to repay the loan. This includes reviewing your current income, expenses, and other debts. Can you afford the monthly payments based on your current financial situation? Otherwise, you may need to consider other options or wait until your financial situation improves.
4. Consider the risk of default
Finally, it is crucial to consider the risk. Failure to repay a loan can have serious consequences, including damaged credit scores, collection calls, and lawsuits. Before signing an agreement, please ensure you fully understand the terms and implications of the loan.
Loan approval process
Now let's understand the loan approval process with an example:
The first step in the loan approval process, is to apply to the lender.
The application typically requires personal and financial information such as your name, address, employment status, income, and credit score. You may also need to provide documents such as pay stubs, bank statements, or tax returns.
Example: John requests a personal loan from bank XYZ. He completed the online application and provided all the required information and documents.
Once the lender receives the application, they will verify the information provided.
This may include checking your credit score and credit history, contacting your employer to verify your employment status and income, and verifying any other documents provided.
Example: Bank XYZ reviews John's application and verifies his information, including employment and income. They also check his credit rating and credit history to determine his creditworthiness.
Once the verification process is complete, the lender will guarantee the loan. This involves analyzing the borrower's creditworthiness and determining the risks of borrowing money.
Lenders consider factors such as credit scores, debt ratios, and the purpose of the loan.
Example: Bank XYZ guarantees John's loan and determines his creditworthiness based on his credit score and income. They also verify that the purpose of the loan is acceptable, in this case, home improvement.
Based on the underwriting analysis, the lender will approve or deny the loan. If approved, the lender will provide a loan quote, which includes the loan amount, interest rate, repayment period, and any fees associated with the loan.
In case of refusal, the lender will provide the reason.
Example: Bank XYZ approves John's loan and offers him a loan. The loan offer includes a loan amount of $20,000, an interest rate of 6%, a repayment term of 36 months, and an origination fee of $100.
Step 5: Accept and finance
If the borrower accepts the loan offer, he must sign the loan agreement and provide any other documents requested by the lender. Once the loan agreement is signed and all copies are received, the lender will fund the loan.
Example: John accepts a loan offer from XYZ Bank and signs the loan agreement. He also provided the necessary documentation. Once all conditions are met, XYZ Bank funds the loan and deposits the loan amount of $20,000 into John's bank account.
Understanding each step of the process and providing accurate information is essential to increase your chances of loan approval.
Conclusion
A loan can help you reach your financial goals, but it's important to carefully assess whether it's right for your current financial situation. Once you're approved for a loan, making your monthly payments on time is essential. If you don't make your payments on time, lenders can and will take action to recover the money owed to them. Late or missed payments can negatively affect your credit score, causing you to pay higher interest rates on future purchases. In other words, borrow responsibly – if you can't afford a loan, don't.
Consider factors such as loan purpose, interest rate and fees, repayment terms, credit rating, loan alternatives, and your current financial situation. This will help you can make an informed decision about finding out if you should apply for a loan. Remember to shop around for the best loan, calculate the total cost, assess your ability to repay the loan, and consider the risk of default before making your final decision.