Health care is an essential component of modern civilization. It includes many activities for promoting, maintaining, and recovering health. The healthcare system plays a critical role in safeguarding the well-being of individuals and communities, ranging from preventive measures such as immunizations and screenings to complex medical treatments and operations.
Accessing appropriate medical treatment may be expensive without adequate financial protection. Individuals may be unable to meet the high costs of medical care. This is where medical and family healthcare insurance comes in. They provide individuals and their families with financial security and access to high-quality medical treatment.
We will look at how the health care system works, the necessity of health insurance, and the many forms of insurance available. We will also discuss the essential things to remember while selecting your healthcare plan.
What exactly is health care?
Healthcare is a broad phrase for preventing, diagnosing, treating, and managing diseases and injuries.
Some forms of healthcare are:
Preventative Medicine: This includes treatments such as routine check-ups, vaccines, and screenings. This aims to prevent health issues before they develop.
Primary Health Care: This is the first point of contact for anyone seeking medical treatment. General practitioners, family physicians, and pediatricians are examples of primary care professionals.
Specialized Care: This is medical treatment delivered by specialists in a particular field of medicine. Such as cardiologists, oncologists, and neurologists.
Emergency Services: This includes medical care in an emergency, such as an accident, serious illness, or injury.
Services for Diagnosis: These are medical diagnostic services such as blood testing, imaging, and biopsies.
Services for Rehabilitation: This encompasses physical, occupational, and speech therapy. Which are aimed at assisting persons in recovering from an accident or sickness.
Hospice Care: This care focuses on symptom alleviation and emotional support. It aims to improve the quality of life of people with severe or life-limiting diseases.
Healthcare providers, patients, and government agencies are all integral to the healthcare system. Doctors, nurses, pharmacists, therapists, and other medical professionals are examples of healthcare providers. Here, government organizations play an essential role in regulating the healthcare business.
How does Health Care in the United States work, and what are its components?
Healthcare in the United States is a complex system that involves multiple stakeholders, including healthcare providers, patients, insurance companies, government bodies, and other organizations.
1. Health Insurance
Health insurance is a type of insurance that covers medical expenses incurred by the insured individual. In the United States, private insurance companies or government programs such as Medicare and Medicaid often provide health insurance. Health insurance plans can vary in terms of coverage provided, the cost of premiums, and the network of providers.
2. Healthcare Facilities
These are places where medical services are provided to patients. They can include hospitals, clinics, nursing homes, and other medical facilities. These facilities vary in terms of the level of care provided, the range of medical services offered, and the quality of care.
3. Pharmaceutical Industry
The pharmaceutical industry plays a vital role in healthcare in the United States. It involves developing, producing, and distributing drugs and other medical products. The government regulates the pharmaceutical industry to ensure that drugs are safe and effective for use by patients.
4. Medical Research
Medical research is an essential component of healthcare in the United States. It involves the study of diseases, medical conditions, and treatments to improve the quality of care provided to patients. Government organizations, private companies, and academic institutions conduct medical research.
5. Patients
Patients are an essential component of healthcare in the United States. They are individuals who seek medical care and services from healthcare providers. Patients can play an active role in their healthcare by seeking preventative care, adhering to treatment plans, and making informed decisions about their health.
6. Government Programs
The government plays a significant role in healthcare in the United States. It provides programs such as Medicare, Medicaid, and the Children's Health Insurance Program (CHIP) to provide coverage for eligible individuals. These programs aim to ensure that individuals can access affordable healthcare solutions, particularly those who cannot afford private health insurance.
What Exactly Is Health Insurance, and How Does It Work?
Health insurance is a form of insurance that covers medical expenditures incurred by the covered person. It operates by paying for medical expenses up to the policy limit. The insured person pays a premium, and in exchange, the insurer offers coverage for medical expenditures according to the policy's terms and conditions.
Here are a few basic things to help you understand what health insurance is and how it works:
Premium: The premium is the amount of money paid to the insurer by the insured in exchange for coverage. Payments can be made monthly, quarterly, or yearly.
Deductible: The sum the insured must pay before receiving insurance coverage. For example, if the deductible is $1,000, the insured must pay $1,000 before receiving insurance coverage.
Coinsurance: Coinsurance is the amount the insured must pay for medical expenditures after the deductible has been reached. For example, if the coinsurance is 20%, the insured pays 20%, and the insurer covers the remaining 80%.
Maximum out-of-pocket expense: The out-of-pocket limit is the most money someone insured must spend for medical expenditures in a given year. The insurance pays for all medical bills after the out-of-pocket cap is met.
Services covered: Medical services covered by health insurance coverage include doctor visits, hospital stays, prescription medicines, and medical procedures. The precise treatments covered, however, vary depending on the kind of coverage and the insurer.
Health Insurance Types
Several sorts of health insurance are available, each with its features and benefits. The five most frequent forms types of health insurance are as follows:
1. Indemnity Plans
Indemnity plans, often known as fee-for-service plans, allow people to see any healthcare practitioner they want. These plans provide the most flexibility but are typically more expensive than other types of insurance. In most cases, indemnity plans require the insured to pay for medical expenditures upfront and then claim reimbursement.
2. HMOs (Health Maintenance Organizations)
HMOs are managed care plans in which the insured's coverage is restricted to a network of providers. In most HMOs, the insured must select a primary care physician (PCP) as the gatekeeper to additional healthcare services. HMOs often limit coverage to in-network physicians and need referrals to see specialists.
3. PPOs (Preferred Provider Organizations)
PPOs are comparable to HMOs, except they allow more freedom regarding healthcare provider selection. They let the insured see any healthcare provider, but they benefit most when they visit in-network physicians. PPOs rarely require recommendations to call specialists.
4. POS (Point of Service) Plans
POS plans cross between HMOs and PPOs. These plans, like HMOs, require the insured to select a primary care physician (PCP) to handle their healthcare requirements. Like PPOs, they enable the insured to see out-of-network physicians at a higher cost.
5. HDHPs (High-Deductible Health Plans)
HDHPs are plans with cheaper premiums that require the insured to pay a larger deductible before coverage begins. They often have more affordable monthly premiums than conventional plans, but the insured must spend more out of pocket before receiving coverage. These plans are frequently combined with a Health Savings Account (HSA), which allows the insured to save money for medical bills tax-free.
6. Short-term Insurance
Short-term insurance is a type of health insurance policy that provides temporary coverage for individuals who need health insurance for a limited period. This type of insurance is often used by individuals between jobs or waiting for employer-sponsored coverage to start. Short-term insurance policies typically have lower premiums than traditional health insurance policies but have a more limited range. They do not cover pre-existing conditions, which can be denied based on medical history.
7. COBRA Insurance
COBRA (Consolidated Omnibus Budget Reconciliation Act) is a federal law that allows individuals to continue their health insurance coverage for a limited time after they leave a job that provides health insurance. Its coverage is available to individuals enrolled in a group health plan through their employer who lost their job due to a qualifying event, such as termination, reduced hours, or divorce. The coverage can last for up to 18 months, and individuals must pay the total cost of the premiums.
Federal Health Insurance
Federal Health Insurance Plans are health insurance programs administered by the U.S. government. They provide healthcare coverage to specific groups of people, including federal employees and retirees, members of the military, and eligible family members. These plans offer a range of healthcare benefits, including medical, dental, vision, and prescription drug coverage.
The Affordable Care Act (ACA)
A critical piece of legislation impacting Federal Health Insurance Plans is the Affordable Care Act (ACA), Obamacare. The ACA was signed into law in 2010 to expand access to healthcare coverage and reduce healthcare costs for Americans. The ACA made several changes to the Federal Health Insurance Plans, requiring all plans to cover essential health benefits such as preventive care, mental health services, and maternity care. The law also prohibits insurers from denying coverage or charging higher premiums based on pre-existing conditions.
Medicare is a federal health insurance program for individuals 65 or older, people with specific disabilities, and people with end-stage renal disease. Medicare is funded by payroll taxes and premiums paid by beneficiaries. There are four parts to Medicare: Part A (hospital insurance), Part B (medical insurance), Part C (Medicare Advantage plans), and Part D (prescription drug coverage). Medicare covers many medical services and treatments, including hospital stays, doctor visits, and preventive care.
Medicaid is a joint federal and state program that provides health insurance coverage for low-income individuals and families. The federal government and the states fund Medicaid, and each has its eligibility requirements and benefits. Medicaid covers many medical services and treatments, including hospital stays, doctor visits, and prescription drugs. Medicaid also covers eligible individuals' long-term care services, such as nursing home care.
Health Insurance Advantages
Individuals and families can benefit from health insurance in a variety of ways, including:
Access to Good Medical Care
Those with health insurance can access quality medical treatment from healthcare providers within the plan's network. This enables individuals to obtain preventative care and diagnose, treat, and manage diseases or medical issues.
Financial Protection Against Expensive Medical Care
Health insurance protects you financially from excessive medical expenditures. Those without health insurance may be compelled to pay for medical expenses out of cash, which may be costly and economically disastrous.
Comprehensive Medical Services Coverage
Doctor visits, hospitalization, emergency treatment, prescription medicines, and medical procedures are all covered under health insurance. This guarantees that people get the required treatment without worrying about the expense.
Health insurance gives individuals and their family health service peace of mind in an unforeseen medical incident. This alleviates the concern and stress associated with medical bills, enabling people to focus on their health and well-being.
Individuals and families can benefit from health insurance tax breaks. Health insurance premiums are tax-deductible, and specific plans may include tax-free savings accounts for medical costs.
Health insurance companies may provide preventive care services, such as wellness programs and health screenings, to promote a healthy lifestyle. Individuals and family healthcare can benefit from these services to preserve their health and avoid the beginning of medical disorders.
Individuals and families can benefit from decreased healthcare expenses if health insurance companies negotiate lower prices with healthcare providers. Anyone may now acquire medical treatment without facing significant fees.
What Considerations Should You Make While Selecting Health Care for Yourself or Your Family?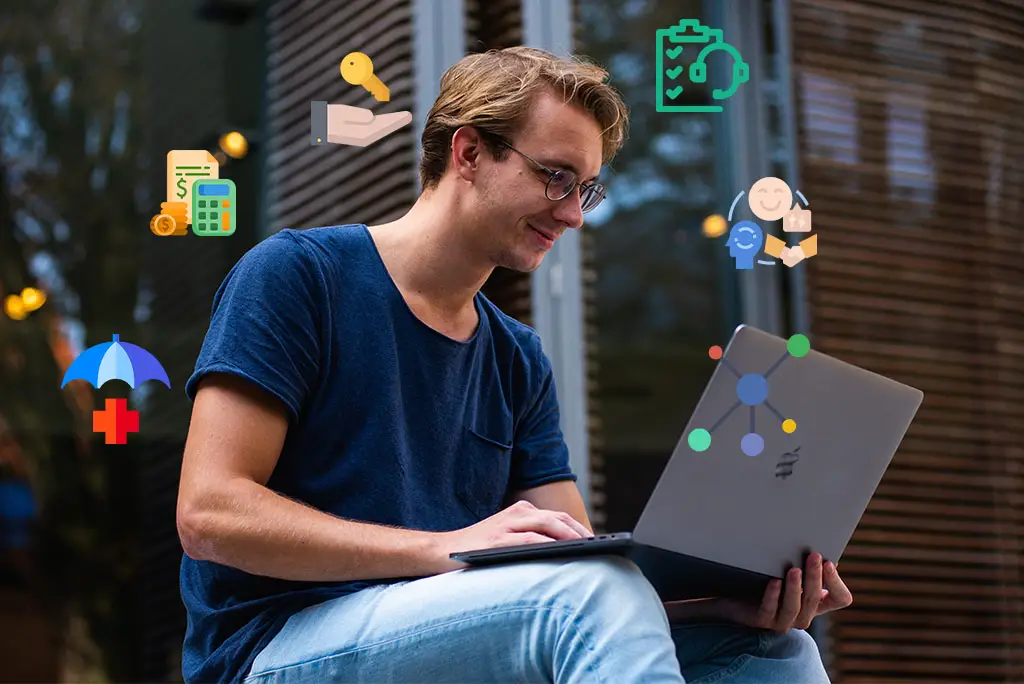 Given the countless alternatives on the market, selecting the right healthcare plan for yourself or your family may be difficult. Yet, by considering specific aspects. You may reduce your options and choose the plan that best meets your healthcare requirements and budget. When selecting healthcare for yourself or your family, consider the following key factors:
1. Coverage
It is critical to evaluate the degree of coverage provided by the healthcare plan under consideration. Check if the plan covers the necessary medical services, such as prescription medicines, specialist consultations, and preventative care services like immunizations and screenings.
2. Cost
Healthcare expenditures may be high, so weighing the costs of the healthcare plans you're considering is critical. Add the monthly premiums, deductibles, copays, and coinsurance amounts to get the plan's total price.
3. Network
Examine the provider network included in the healthcare plan. Check to see if the program has an extensive network of physicians, hospitals, and clinics in your region. Moreover, be sure that the healthcare providers you like are part of the network.
4. Plan adaptability
Consider the adaptability of the healthcare plan you are contemplating. Consider whether the program lets you select your healthcare providers or whether you must use just those in the network. In addition, check to see if the plan limits the medical services you can use.
5. Reputation
Investigate the reputation of the healthcare plan you are thinking about purchasing. Examine the program and the healthcare providers in the network's online reviews, ratings, and rankings. Check whether the project has been engaged in any litigation or controversies.
6. Consumer service
Evaluate the healthcare plan's degree of customer service. Decide whether the program includes a customer service number open 24 hours a day, online chat help, or in-person support. Check the customer support team's responsiveness and helpfulness as well.
7. Accessibility
Examine the healthcare plan's usability. Check if the program offers online health insurance or a mobile app for managing your healthcare account. You can access your medical information and schedule appointments.
Conclusion
Health care is a crucial component of every civilization. And having health insurance gives financial security as well as access to high-quality medical treatment. Individuals may make educated decisions about their healthcare requirements by learning the workings of the healthcare system and the many forms of health insurance available.