Credit card debt is a consumer debt that arises when people shop with a credit card and the debt is not fully paid on the due date. This results in a balanced equation that results in profits that can add up quickly and impractically. Understanding credit card debt analysis is essential in helping people make wise financial decisions and avoid debt. In this blog, we examine the current status of average credit card debt statistics in 2023, demographic and geographical analysis of credit cards, the causes of credit card debt, the consequences, and advice on managing credit card debt.
Current State of Average Credit Card Debt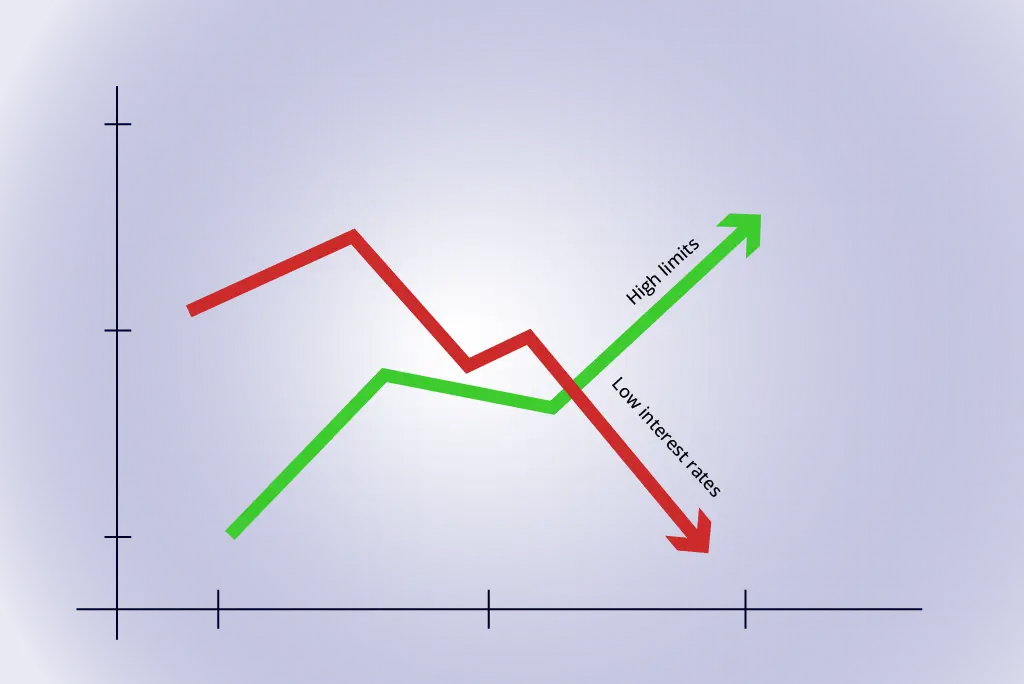 At the last count, the average credit card debt in the United States had $5,315 in credit card debt.
That's more than last year's average credit card debt of $5,247. However, it is worth noting that these statistics may vary according to the age, gender, race, education level, and location of the person.
The credit facility is one of the reasons that increase the average credit card debt amount. Many credit card companies offer high limits and low-interest rates, making it easier for consumers to accumulate debt. Additionally, the pandemic has affected people's finances, causing some people to lose their jobs or have less income to increase their average credit card debt.
Read also – 750 Credit Score: Is it Good or Bad?
Community Analysis of Credit Card Debt
The age group with the most credit card debt is mostly 35 to 54, with an average credit card debt of $7,908. The lowest debt is for people over 75, with an average credit card debt of $2,319. As for gender, men generally have more credit cards than women, averaging $6,255 compared to the standard of $4,604 for women. However, this gap is narrowing as more women become financially independent.
Race and education level also play a role in credit card debt.
African-Americans and Hispanics tend to have more credit cards than other races, and those with a high school education or less are more likely to have a credit card than those with a college degree or higher.
Read – 6 Best Credit Cards for Young Adults in 2023
Geographic Analysis of Credit Card Debt
The Geographic Analysis of average credit card debt in US shows that the states with the highest credit card debt are Alaska, Hawaii, and California, with an average of more than $6,000 per capita. The states with the lowest debt are Iowa, North Dakota, and South Dakota, with an average debt of $4,000 per person.
There are also differences in credit cards between cities and rural areas. Urban areas tend to have higher credit card debt, possibly due to higher living costs and greater spending power.
Read – 5 Best Credit Cards After Bankruptcy
Reasons for Credit Card Debt
There are many reasons people get into credit card debt. The most common causes are overspending, lack of financial literacy, medical bills, unemployment, and debt obligations.
Also, one of the most important reasons is the ease with which credit cards are available to people, as the average number of credit cards per person is 1-2.
People who work in low-income or dangerous jobs are more likely to get credit card debt. People with higher incomes or stable jobs can pay their debts fully and avoid interest.
Read – 10 Best Credit Cards for Wedding Expenses
Consequences of Credit Card Debt
High-interest rates can make it harder for people to pay off their debt, leading to a debt cycle. Additionally, high balances on credit cards can affect a person's credit scores, which can affect their ability to obtain a loan or mortgage in the future.
Credit card debt can also cause stress and anxiety, leading to mental health problems such as depression, anxiety, and insomnia.
The stress of debt management can be overwhelming, and feeling stuck in a debt cycle can be a significant source of stress and anxiety. The burden of credit card debt can also affect relationships, causing conflicts with partners, family, and friends.
Eliminating credit card debt is possible, but it takes discipline and determination. One of the best strategies for paying off credit card debt is to create and stick to a budget.
This may include cutting unnecessary expenses, increasing your income, and paying off your debt first.
Another option for managing credit card debt is to consolidate the debt through a personal loan or money transfer. This can combine several payments into one, making it easier to repay debt and offering lower interest rates.
Read – Best Credit Cards for Travel, Rewards, and Low interest
Credit card and cash statistics
A study by the San Francisco Central Bank found that by 2021, credit card payments will account for 28% of all payments. This is the highest level since 2016, when the survey began, and shows that credit cards have gained in value compared to cash or other payment methods. The share of credit card payments is higher for families with higher incomes: This rises to 34 percent for families earning between $100,000 and $149,999 and 44 percent for families with incomes over $150,000.
A recent Forbes Consultants survey conducted in February 2023 found that only 9% of Americans typically use cash to pay for purchases.
Debit and credit cards are the leading payment methods, where 54% of consumers use physical or virtual credit cards, and 36% use debit or credit cards.
Read – 15 Benefits of Using a Credit Card
How many Americans use credit cards?
By 2021, 84% of US adults will have a credit card. About 73% of Americans have a credit card before age 25, making it a teenager's first loan experience.
According to TransUnion, the total number of credit card users will reach 166 million in the fourth quarter of 2022, up from three years ago. New cards are also increasing among these users. Almost half of the population (47.5%) opened at least one new account last year, with more than 518 million by the end of 2022.
Applying for a new card can provide many benefits, such as access to credit limits, membership benefits, and credit card benefits.
However, it is important to know the related constraints before applying for a credit card.
Read – Credit for Beginners: Understanding the Five C's of Credit
Conclusion
In summary, credit card debt is a common problem that can significantly affect people and their financial health. Understanding credit card debt analysis and the factors that lead to more debt is essential for managing your finances and avoiding debt. By creating a budget, paying off debts, and exploring consolidation options, people can take control of their finances and gain financial security. It's important to know that managing credit card debt is an ongoing process that requires constant effort to maintain financial health. By taking a proactive approach and being aware of the benefits of credit cards, people can make informed decisions and avoid credit card problems.
Read – Top Credit Card Options to Earn Cashback and Other Rewards
FAQs
Q: How does the 2023 average credit card debt analysis compare to the previous years?

A: Credit card debt has been rising for years, and 2023 will be no exception. However, growth may vary depending on conditions such as the market and customer behavior.

Q: What increases or decreases credit card debt?

A: Factors such as the state of the economy, interest rates, consumer behavior, and credit card company practices can increase or decrease credit card debt.

Q: Which age group has the highest and lowest average credit card debt?

A: Generally, younger people tend to own more credit cards than older people. However, this may differ from person to person.

Q: How does interest rate affect credit card debt?

A: Interest rates can significantly impact mortgage debt because higher interest rates increase the cost of borrowing and make it harder to pay off the debt.

Q: Does credit card debt affect mental health?

A: Yes, credit card debt can cause stress and anxiety, leading to mental health problems like depression and anxiety.