Deed-restricted communities have gained significant popularity in recent years. In a world where we seek connection and privacy, a deed-restricted community presents an alluring proposition.
Homebuyers are attracted to these communities for the enhanced property values, aesthetic appeal, community amenities, and the sense of security they offer.
Whether you are considering a move to a deed-restricted community, are already a resident navigating the intricacies of community living, or are simply curious about this unique way of life, our blog will be a valuable resource.
We will explore the benefits of living in a deed-restricted community and examine the potential challenges that residents may encounter.
Understanding Deed Restrictions
A deed-restricted community, also known as a planned community or a homeowner association (HOA) community, is a residential development where the property owners are bound by a set of rules and regulations known as deed restrictions.
Deed restrictions, also called covenants, conditions, and restrictions (CC&Rs), are legally binding agreements that dictate how property owners can use and modify their properties within the community.
A developer or a homeowners' association typically establishes these restrictions to govern various aspects of the community.
The purpose of these restrictions is to protect property values, maintain community standards, and ensure harmonious living among residents.
Types of restrictions commonly found in deed-restricted communities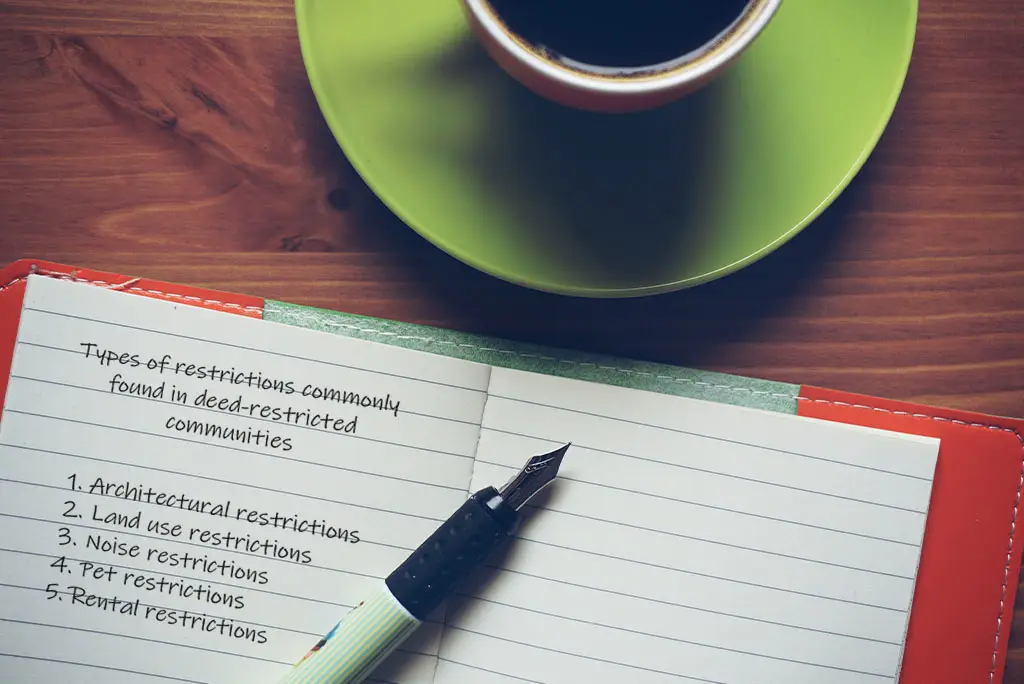 Architectural restrictions: These guidelines control the appearance and design of homes within the community, ensuring a cohesive and visually appealing environment.
Land use restrictions: These restrictions govern the use of properties, such as prohibiting certain commercial activities or limiting the size and type of structures.
Noise restrictions: These regulations aim to maintain a peaceful and quiet atmosphere within the community by limiting excessive noise levels.
Pet restrictions: Deed restrictions may include rules regarding the number, size, breed, or type of pets allowed within the community.
Rental restrictions: Some communities may restrict rental properties to maintain a balance between owner-occupied and rented units.
Benefits of Living in a Deed-Restricted Community
1. Maintaining property values
One of the primary advantages of deed-restricted communities is the protection and enhancement of property values. The consistent enforcement of architectural and maintenance standards ensures that homes remain well-kept, positively affecting resale values.
2. Enhancing aesthetic appeal
Deed restrictions promote architectural harmony and cohesive design within the community. Thus, they create an aesthetically pleasing environment for residents and visitors alike.
3. Promoting community cohesion
Deed-restricted communities often foster community and belonging through shared amenities, common areas, and organized social events. It can lead to stronger relationships among neighbors and a greater sense of belonging.
4. Ensuring peaceful and harmonious living
The enforcement of noise restrictions and other guidelines ensures a peaceful living environment, minimizing disturbances and conflicts among residents.
How Deed Restrictions Are Enforced
Role of homeowners' associations (HOAs) – Homeowners' associations are typically responsible for enforcing deed restrictions within the community. The HOA is composed of elected residents who oversee the management and administration of the community.
Enforcement mechanisms and consequences for violations – HOAs can enforce deed restrictions through various mechanisms, including warnings, fines, and legal action if necessary. The consequences for violating regulations can vary depending on the severity and frequency of the violation.
Resolving disputes and conflicts – Most deed-restricted communities have established processes for resolving disputes and conflicts between residents or homeowners and the HOA. These processes often involve mediation or arbitration to reach a fair resolution.
Pros and Cons of Deed Restricted Communities
Pros
Enhanced property values: Deed restrictions help maintain the overall appearance and quality of the community, which can positively impact property values.
Maintained standards of living: Deed restrictions ensure that the community remains well-maintained and aesthetically pleasing, enhancing the quality of life for residents.
Access to community amenities: Many deed-restricted communities offer amenities such as parks, swimming pools, gyms, and recreational facilities exclusive to residents.
Greater sense of security: Deed-restricted communities often have security measures, such as gated entrances or neighborhood watch programs, which can give residents a greater understanding of safety.
Cons
Restrictions on personal choices: Living in a deed-restricted community means adhering to specific rules and regulations, which can limit personal freedoms and choices regarding property use and modifications.
HOA fees and assessments: Homeowners are typically required to pay HOA fees and assessments to cover the costs of maintaining common areas and amenities and enforcing deed restrictions.
Potential conflicts with neighbors or HOA board: Differences in interpretation or enforcement of deed restrictions can lead to disputes between residents or between homeowners and the HOA.
Finding the Right Deed Restricted Community
Researching available options – Prospective residents should conduct thorough research to identify deed-restricted communities that align with their preferences and lifestyle. Online platforms, real estate agents, and community forums can provide valuable information.
Considering personal preferences and lifestyle – You should carefully evaluate factors such as location, amenities, proximity to schools and amenities, and the types of restrictions imposed to ensure a good fit.
Reviewing and understanding the deed restrictions – Potential residents should carefully review the deed restrictions to understand the specific rules and regulations they would be required to adhere to.
Visiting the community and talking to residents – Visiting the community and speaking with current residents can provide valuable insights into the lifestyle, community dynamics, and overall satisfaction of residents.
Conclusion
Deed-restricted communities are gaining popularity due to their ability to maintain property values, enhance aesthetics, foster community cohesion, and ensure peaceful living. Deed restrictions govern them by dictating various property use and modifications.
While deed-restricted communities offer numerous advantages, it is essential for potential residents to review and understand the deed restrictions carefully. This ensures that the restrictions align with their personal preferences and lifestyle. By doing so, individuals can make an informed decision about whether living in a deed-restricted community is the right choice for them.
FAQ's
Q 1. Can deed restrictions be changed or modified?

A. You can modify deed restrictions, but the process varies depending on the community. Typically, any changes to the restrictions require a voting process involving the homeowners' association and the community residents. Significant modifications may require a supermajority vote or even the consent of all affected property owners.

Q 2. What happens if I violate a deed restriction?

A. The consequences for violating a deed restriction can vary depending on the severity and frequency of the violation. Typically, the homeowners' association has the authority to enforce the restrictions. It may issue warnings, impose fines, or even take legal action to enforce compliance. Understanding and abiding by the deed restrictions is crucial to avoid potential penalties.

Q 3. How do deed restrictions impact property values?

A. Deed restrictions can have a positive impact on property values. By maintaining consistent community standards, including architectural guidelines and well-maintained common areas, deed-restricted communities tend to retain their appeal and desirability. This can lead to increased property values over time.

Q 4. Can I modify my property within the deed restrictions?

A. Property modifications within the deed restrictions are usually allowed. However, they may require approval from the homeowners' association or an architectural review committee. These approvals ensure that modifications comply with the community's guidelines and do not adversely affect the overall aesthetics or property values.

Q 5. How can I involve in the homeowners' association?

A. If you are a resident of a deed-restricted community, you can involve in the homeowners' association by attending meetings, volunteering for committees, or even running for positions on the HOA board. This allows you to have a say in the governance and decision-making processes of the community.